Yocan Black Phaser Ace Wax Vaporizer


Yocan has been a trailblazer in the world of vaporizers, with its innovative designs and superior features consistently setting new benchmarks in the industry. The Yocan Black Phaser Ace Wax Vaporizer, the latest addition to their stellar lineup, is no exception. This groundbreaking vaporizer has been designed to offer an unparalleled vaping experience for demanding consumers who value quality and performance. The device has been launched under Yocan's premium sub-brand, Yocan Black, and is retailed at prominent outlets like the SuperNova Smoke Shop in San Antonio, New Braunfels and Helotes.
Let's delve into the exceptional features that make the Yocan Black Phaser Ace Wax Vaporizer a game changer in the market of extract vaporizers.
The Powerhouse of Performance
The Yocan Black Phaser Ace Wax Vaporizer boasts of a robust 1800mAh battery, providing longer sessions than most comparable vaporizers in the market. According to Yocan, this powerful device can last up to 15 hours of sessions, making it an ideal companion for both solo use and group sessions.
Whether you're a recreational user planning to bring your Yocan Black Phaser Ace Wax Vaporizer to parties and music festivals, or a medicating patient who relies on a dependable device for your medicinal extract needs, the long-lasting power of this vaporizer ensures you'll never run out of juice.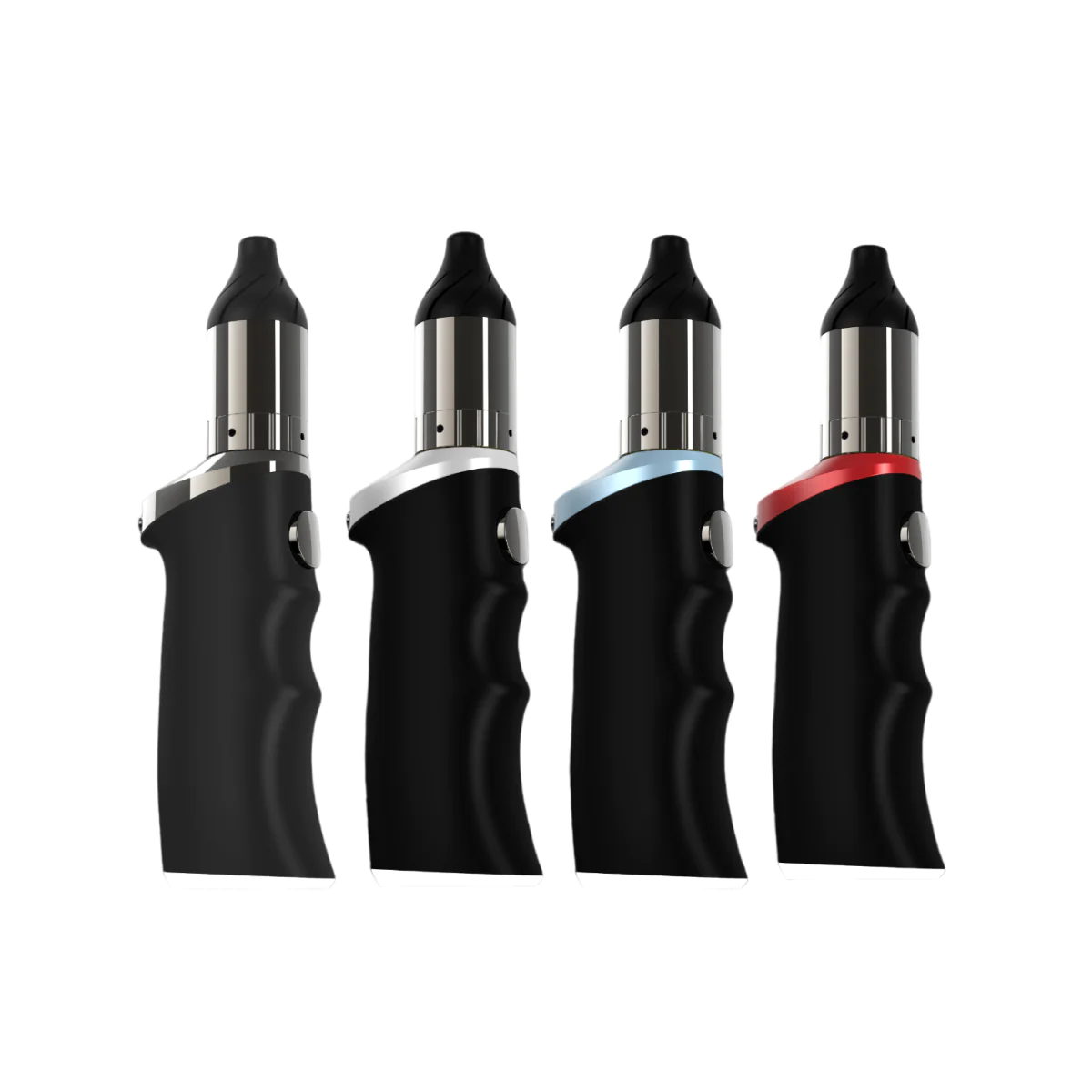 The Advanced Dual Coil System
The Yocan Black Phaser Ace Wax Vaporizer comes equipped with an Advanced Dual Coil System that leverages the benefits of embedded ceramic to regulate the temperature released by the heating element.
Ceramic heating elements are known for their slower and steadier heating arc that allows the wax concentrates to go through various temperature levels instead of being quickly subjected to high temperature. This results in a comprehensive extraction of active ingredients from the wax concentrate, letting you experience the full range of effects offered by your chosen wax.
Moreover, the dual coil system ensures that your wax concentrates are vaporized without reaching the point of combustion, keeping your sessions healthy and enjoyable.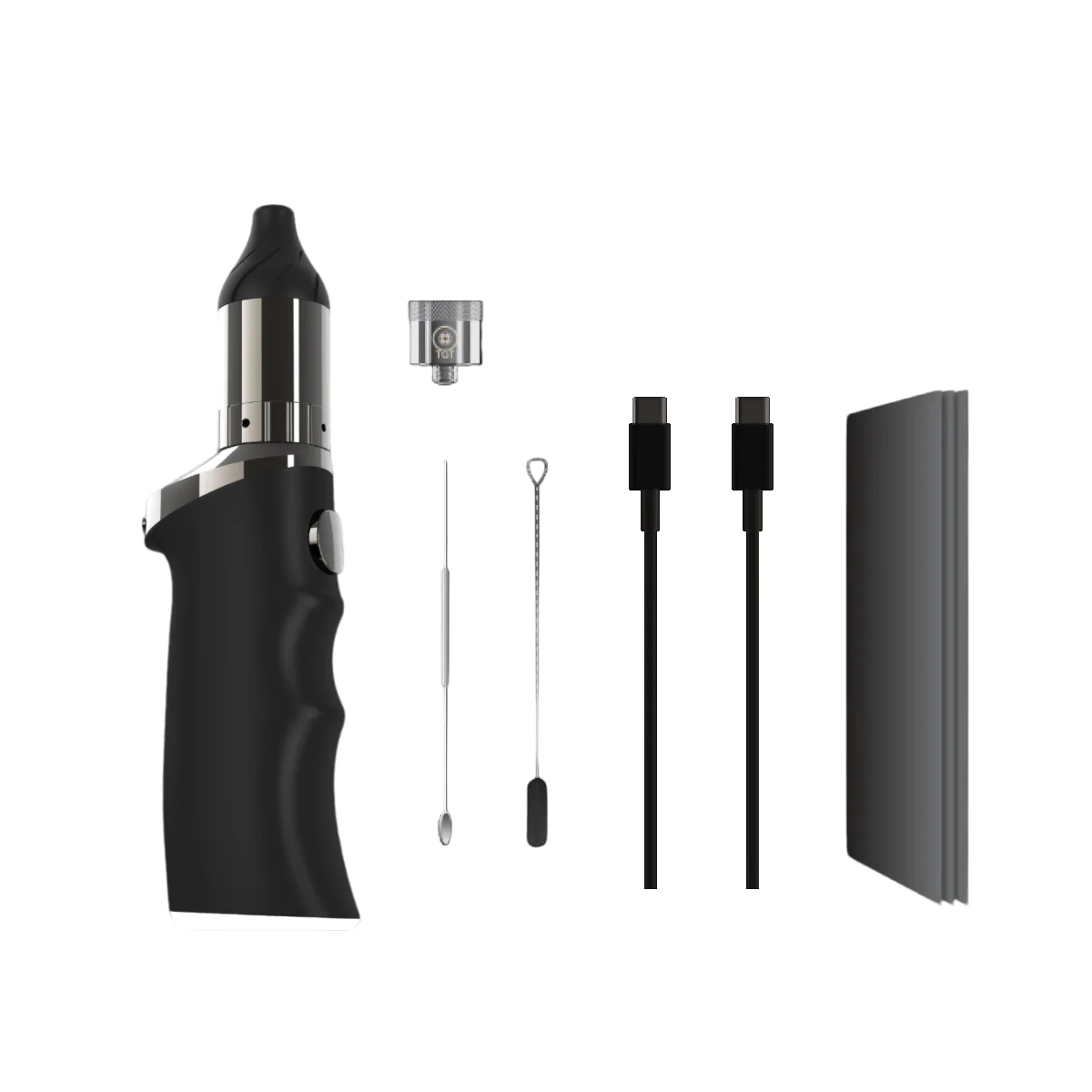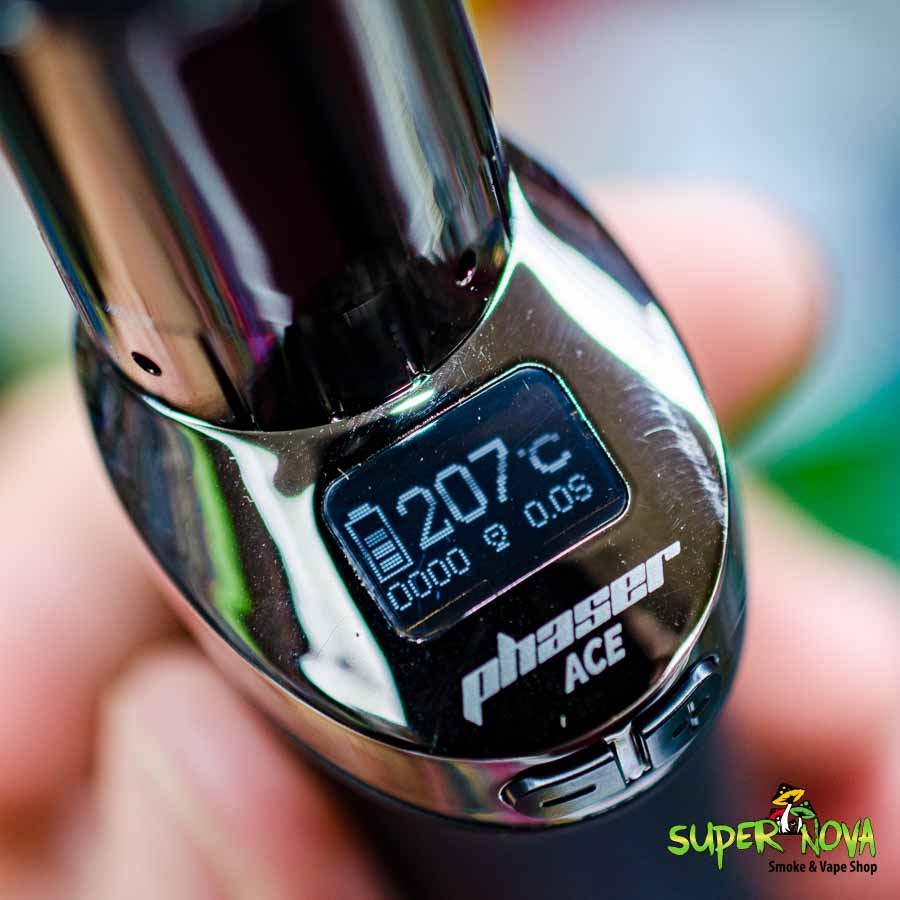 Precision Temperature Control
With the Yocan Black Phaser Ace Wax Vaporizer, you're in complete control of your sessions. Unlike devices that offer pre-set temperature profiles, this vaporizer features precision temperature settings that let you fine-tune the temperature to your liking.
Considered a pro-feature by many, precision temperature settings are perfect for users who have specific preferences in consuming their preferred materials. The Yocan Black Phaser Ace Wax Vaporizer offers a temperature range of 400-700 degrees Fahrenheit for superior session customization. The lower temperature levels are ideal for flavor and aroma enthusiasts, while the higher temperature profiles cater to those who prefer potent sessions.
The temperature can be adjusted with dedicated "+" and "-" buttons on the face of the vaporizer, making it easy to increase or decrease the temperature level as per your preference.
Line of Sight Display
The device features Yocan's new display system, the Line of Sight Display. This innovative technology displays the necessary vaping details in high quality, reducing the need to view the screen from different angles and eliminating eye strain.
The Yocan Black Phaser Ace Wax Vaporizer also comes with RGB lighting for added aesthetic appeal, allowing users to add a psychedelic effect to their dabbing sessions. The functions can be viewed and operated through the Line of Sight Display screen.
Comfort and Convenience
The Yocan Black Phaser Ace Wax Vaporizer comes with a silicone mouthpiece cup that offers a comfortable experience, especially for those who find inhaling from a metal or glass mouthpiece less comfortable.
The vaporizer also features an ergonomic grip that ensures secure handling, preventing accidental drops and reducing wrist strain. This makes it an excellent choice for long dabbing sessions.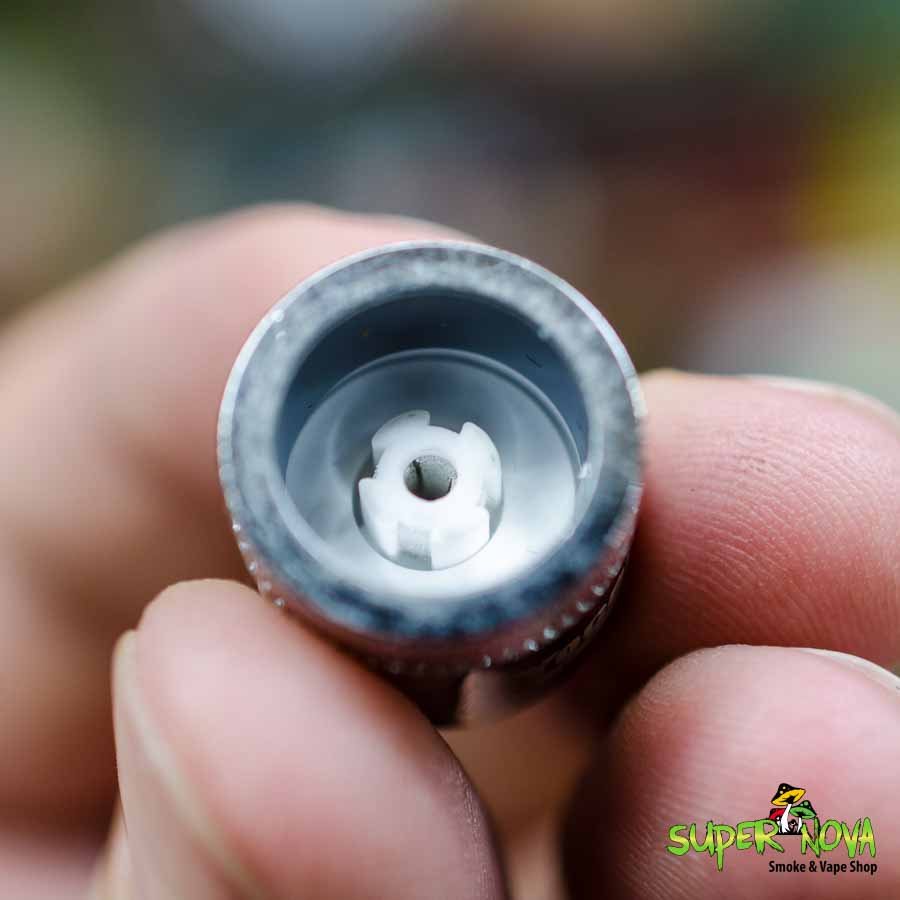 Performance and Vapor Quality
The Yocan Black Phaser Ace Wax Vaporizer delivers on performance. While it doesn't offer water filtration like the MAX model, its vapor quality is commendable. Since the coil is directly under the mouthpiece, the vapor doesn't have much time to cool down, making it slightly harsher compared to devices with a water filter.
However, with a bit of technique, such as starting at the lowest temperature and pulsing the button as you inhale, you can achieve fine control over the coil's heat and prevent burning the extract.
Value for Money
Priced at around $70, the Yocan Black Phaser Ace Wax Vaporizer is cheaper than most dab pens on the market, making it a great value for money. Considering its impressive features and performance, it offers a commendable vaping experience for its price point.
In conclusion, whether you're a seasoned vaper or a beginner, the Yocan Black Phaser Ace Wax Vaporizer is a worthy addition to your collection. Its unique mix of power, performance, and precision make it a standout in the crowded market of extract vaporizers. So, why wait? Head to the nearest SuperNova Smoke Shop today and experience the magic of Yocan!